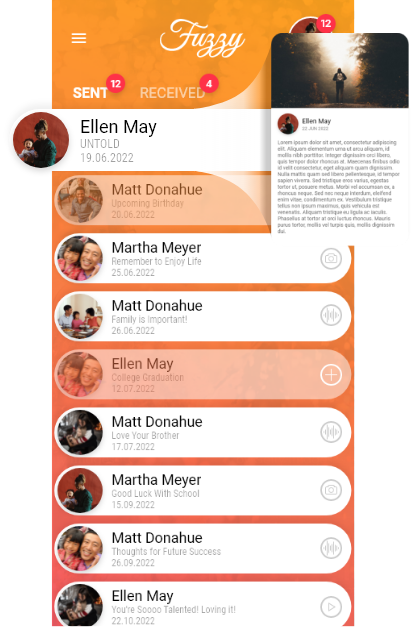 What is a Fuzzy?
"Warm and fuzzy" is a feeling you've known since birth.
It's the milestone surprise birthday celebration.
It's the memory of your first trip to Disney World.
It's the moment you smell your mom's famous Thanksgiving pie.
There are many ways to capture these milestones, memories, and moments. But there is only one way to make someone feel "warm and fuzzy."
Milestones, Memories & Moments
Give a gift your loved ones will cherish for a lifetime, and beyond.
Need a little inspiration?
Here are a few examples that are sure to give you the "warm and fuzzies."

My dad was diagnosed with cancer last year. He scheduled several Fuzzies to be sent during important moments in my life he may miss. You just can't put a price on that special gift.

The COVID pandemic brought many challenges, but it also created time to teach my 6-year-old son to ride a bike. I don't want him to ever forget that memory or the joy he felt when he finally got it! I scheduled a Fuzzy with the video of his first solo ride to be sent on his 16th birthday, so he remembers that he can accomplish anything.

I wasn't able to visit my mom this year for her milestone 60th birthday, but I sent her a Fuzzy and said everything a card couldn't. I'll never miss her birthday again!
Download Fuzzy
Ready to make someone you love feel warm & FUZZY? Download the app on your Android or Apple mobile device today.